I am linking up on this dreary Saturday morning.
This whole blog thing is new to me but I have loved meeting new folks and gaining more followers.
Enter #FF.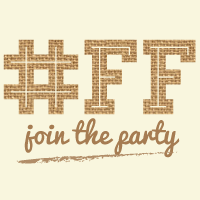 Although I haven't jumped on the TwitTwit bandwagon, I have learned what that little pound sign means and I am gonna do my best to meet some new fellow bloggers on this link up today.
I do need some suggestions though...
To Tweet or not to Tweet??
That is the question.
Happy Weekend Folks!